AirCurve™ 10 S The AirCurve 10 S is ideal for sleep apnea patients who find it difficult to...
more
Product information "ResMed AirCurve 10 S BiLevel Device"
AirCurve™ 10 S
The AirCurve 10 S is ideal for sleep apnea patients who find it difficult to adjust to sleep apnea therapy on a continuous fixed pressure device, as well as patients who need extra pressure support. This bilevel machine has two different, adjustable set pressures which can make therapy feel more comfortable. An integrated humidifier simplifies setting up the device and makes therapy easier.
Easy-Breathe technology
The Easy-Breathe pressure waveform mimics the shape of your natural breathing and replicates it for a more natural breathing experience.
Climate Control
Powered by the device and the HumidAirTMhumidifier, Climate Control is designed to deliver a constant, comfortable temperature and humidity level during therapy. The optional ClimateLineAirTMheated tube can further enhance comfort and help prevent moisture from accumulating in the tube.
Other features
Continuous leak management

enables reliable delivery of therapy pressure while maintaining patient-device synchrony.

The AirCurve 10 S bilevel machine

is compatible with up to 15L/min of supplementary oxygen.

Consistent humidification

throughout the night with the integrated HumidAir™ humidifier and optional ClimateLineAir™ heated tube with Climate Control technology can provide a more comfortable experience.

The user-friendly controls, intuitive interface and color LCD screen

make it simple to navigate menus and customize comfort settings.

The quiet Easy-Breathe motor

makes for a peaceful environment for you and your bed partner.
AirCurve 10 S device
Slimline Tubing
travel bag
Filters
Manual
24 month warranty
SD-Card
Power cord
power supply unit
Related links to "ResMed AirCurve 10 S BiLevel Device"
Available downloads:
Technische Daten
AirCurve10 S Technische Daten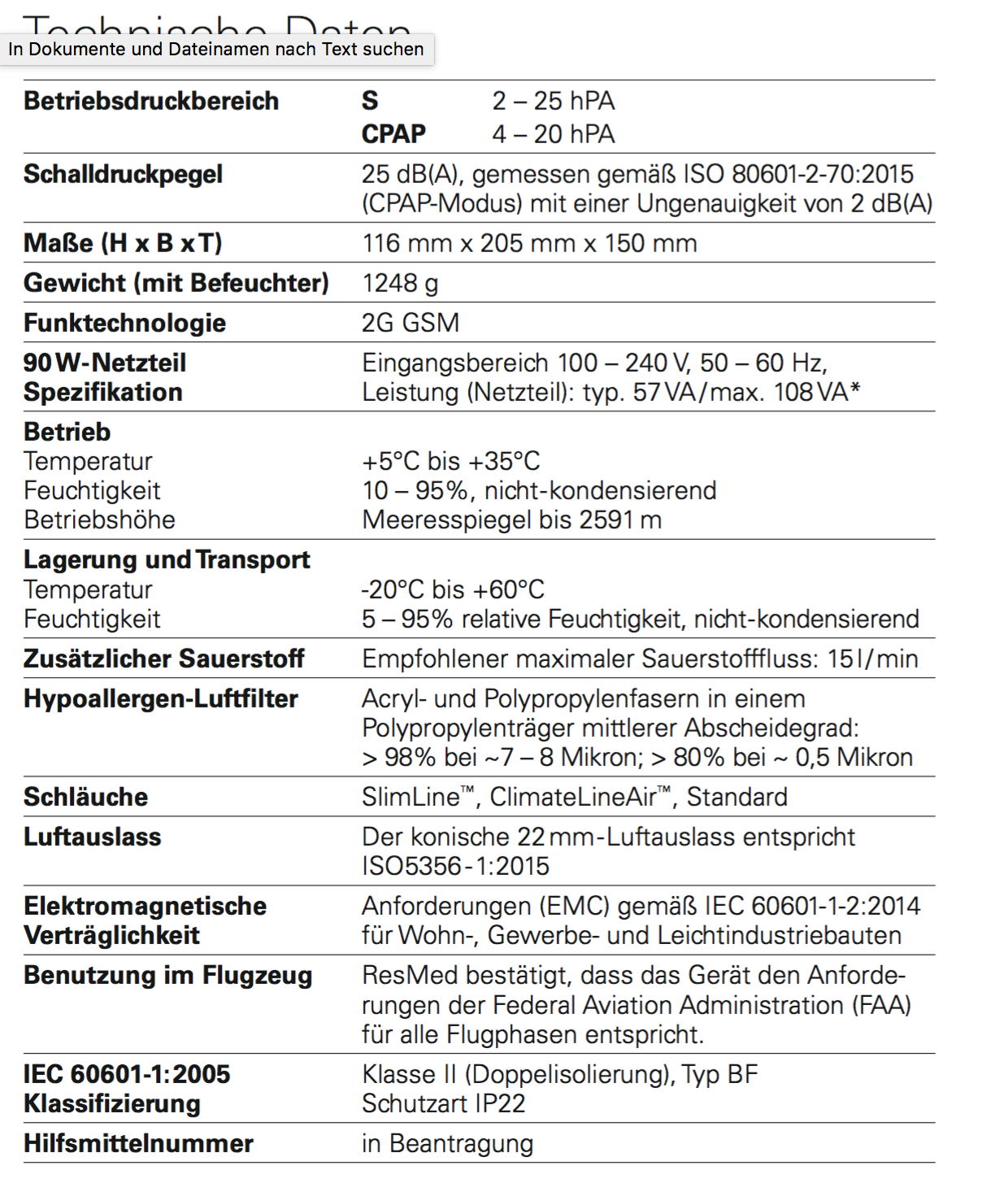 Lieferumfang
Lieferumfang
Therapiegerät
Atemschlauch (SlimLine)
Netzteil
Netzkabel
Transporttasche
Ersatzfilter
Handbuch
SD-Karte